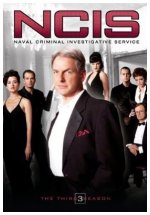 NCIS: Naval Criminal Investigative Service
2003










Operating independently, the Naval Criminal Investigative Service pursues the most difficult military-related crimes. Led by taciturn Special Agent Leroy Jethro Gibbs (Mark Harmon), the crack team -- including an ex-homicide cop (Michael Weatherly), a quirky forensic specialist (Pauley Perrette), a brainy computer expert (Sean Murray) and a seasoned medical examiner (David McCallum) -- delves into cases of murder, espionage, terrorism and more.

Drama, Mystery, TV

7










watch this show all the time, very awesome:)

8










Interesting and pretty exciting. "Jethro Gibbs" doesn't roll off the tongue quite right, though
27










Another twist on the cop show genre - the cast on this isn't fantastic, but they do an okay job.