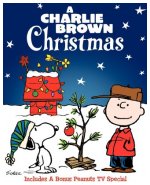 A Charlie Brown Christmas
1965










Lovable schlemiel Charlie Brown searches for Christmas' true meaning in this animated holiday classic. Charlie directs a Christmas pageant, buys a stunted tree and learns that the yuletide means more than just presents and tinsel. All of Charles Schulz's familiar "Peanuts" characters are here -- from Snoopy and Lucy to Schroeder, Linus and Pig-Pen. Great score by Vince Guaraldi.
Cartoon, Children

11










A big fat boo to the corporate fatsos that took this off the air for some reason this year. A household classic for millions around the holidays.
27










A classic - who doesn't love this movie around Christmas time?