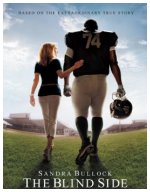 Oversized African American Michael Oher (Quinton Aaron), the teen son of a murdered father and a crack-addicted mother, is homeless at age 16. Taken in by an affluent Memphis couple, Leigh Anne (Sandra Bullock) and Sean (Tim McGraw), Michael embarks on a remarkable rise to play for the NFL. Based on Michael Lewis's bestseller, this inspirational sports tale also stars Kathy Bates as Michael's persistent tutor, Miss Sue.
Biography, Book, Drama, Sports

11










A very good movie in itself, but if you are familiar with the underlying story, you find inconsistencies. Acting wise, done near flawlessly. I didn't like that the person whom the story was based around was relegated to a mere supporting character.
27










I normally don't like sports movies - but this one was much more than just a sports movie. Sandra Bullock was fantastic, this is the best role I've ever seen her in, and the rest of the cast was pretty good as well. Excellent.