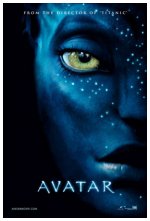 Crippled ex-Marine Jake (Sam Worthington) journeys to the beautiful planet Pandora to become an avatar -- a quasi-alien "clone" of his real self -- and unwittingly becomes involved in an interstellar conflict. When the alien Na'vi race rebels against humanity's unchecked exploitation of Pandora's resources, Jake must decide exactly where his loyalties lie. James Cameron directs this dazzling action film that also stars Sigourney Weaver.
Action, Adventure, Fantasy, Sci-Fi

12










Very good movie even though the 3d glasses made my eyes hurt! lol butthats just me othwerwise very excellent and good

10










Not as fantastic as many pretend, though of course visually candy of the century. Aliens and T2 made me want to see them instantly again, Avatar I can wait for few months before second viewing. But still a must see in big Imax 3D theater!

4










I don't know why it's so uncool to say you like this film. A visual tour de force ... and the storyline is no worse than Alien, regarded by many as a masterpiece.

11










There's a battle near the end that has incredible CGI work. It's a snoozer for a good deal of the beginning of the movie, though. Might be a little too long.
27










Aside from all the hype I thought this was actually a well done sci-fi movie. The massive amounts of CGI could be a bit offputting for some people, but I thought they did a good job of avoiding the uncanny valley.