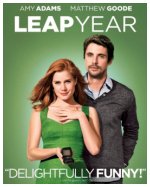 Anna (Amy Adams) chooses February 29 to propose marriage to her "perfect" boyfriend, Jeremy (Adam Scott), sure he'll accept because of an Irish custom. But after meeting charming innkeeper Declan (Matthew Goode) en route to Dublin, Anna must evaluate her original plans. Anand Tucker directs this charming romantic comedy about finding what one really wants in the most unexpected places. John Lithgow co-stars.
Comedy, Romance
27










Predictable and not really special, but Amy Adams is perfect for her role - and as always she provides a few genuinely funny moments.

15










I've been a big fan of romantic comedies but was getting tired of the same uninspired formulas lately. This one refreshed the genre with great acting and true chemistry. A truly good film.