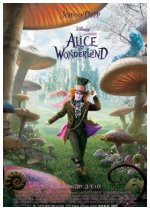 A 19-year-old Alice (Mia Wasikowska) journeys through Underland, where she experiences strange ordeals and encounters peculiar characters, including the vaporous Cheshire Cat (voiced by Stephen Fry), the Mad Hatter (Johnny Depp) and the sadistic Red Queen (Helena Bonham Carter). Anne Hathaway, Alan Rickman, Matt Lucas and Crispin Glover co-star in director Tim Burton's bold adaptation of the Lewis Carroll classic.

Adventure, Book, Children, Fantasy, Sci-Fi

1










cool movie sdadasdsadasdasdas

1










good!! i like this !!! keep it up

10










The film seems to focus way too much on Johny Depp, and Alice is just tossed aside. Too much CGI is used so that it distracts from the plot. It's forgettable but still enjoyable.

6










Have only watched in 2D and the only redeeming thing about this movie was Johnny Depp's quirky performance. Perhaps 3D would have given me a better experience.
27










Cheshire Cat and Alice were perfect but the rest of the cast just seemed adequate. Some parts felt like they relied on CGI to compensate for plot, which is a pity when retelling such a detailed story as this. I preferred
Alice
to this film.

10










Saw it the other day. Johnny depps performance was excellent. Make sure to watch this movie in the 3D version. They give you glass's. I recommend not watching it without the glass's, Thus its appeal.