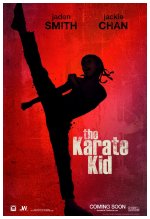 After moving to Beijing with his mother, Dre (Jaden Smith) falls prey to a bully, so he takes lessons from martial arts master Mr. Han (Jackie Chan) in this remake of The Karate Kid. While Mr. Han teaches Dre to defend himself, he also imparts some important life lessons. Meanwhile, Dre struggles with the unfamiliar language and cultural barriers he encounters in his new country. Taraji P. Henson co-stars.

Children, Drama, Martial Arts

10










Story was'nt as inspiring as the original, sub-par acting on jayden smiths part, but it as fun to watch the kung fu choreography.

11










This movie was better than i thought it would be, Jackie Chan did a fine job of acting in this one, however you can predict how the movie will end.

15










Somewhat escapist, with its foreign setting and energizing Rocky-esque story. Not classic film, but Jaden Smith and his "love interest" are winsome, and Jackie Chan's character steals the show, so the movie is satisfying enough to watch.

10










Besides a misleading title, there aren't many flaws in the rebirth of Jackie Chan's career. It does some things better than the original, but it's not as memorable and powerful.