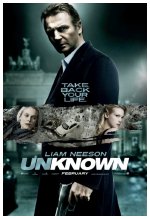 Liam Neeson stars in this taut thriller as a man who regains consciousness after an auto accident only to discover that another man is impersonating him, and that no one -- not even his wife (January Jones) -- recognizes his identity as the real Dr. Martin Harris. Finding himself with an unexpected ally (Diane Kruger), Harris struggles to solve the mystery and hang onto his own wits, while also being stalked by anonymous killers.
27










The film composition was similar to the
The Bourne Identity
, but not nearly as tight or compelling. The attempt to make it suspenseful or mysterious at the beginning wasn't interesting and could have been avoided. Decent acting all around

15










A thoroughly entertaining ride with the small exception of Frank Langella's role (a bit unbelievable in an otherwise believable script). Standout role by Bruno Ganz as Cold War relic.