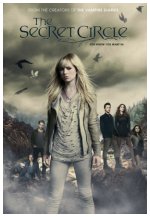 When Cassie Blake's mother Amelia dies in a fire, Cassie moves in with her grandmother Jane in the small town of Chance Harbor, Washington - the town her mother left so many years before. As Cassie gets to know her high school classmates strange and frightening things begin to happen. Her new friends explain that they are all descended from powerful witches, and they've been waiting for Cassie to join them and complete a new generation of the Secret Circle.
27










Starring Brittany Robertson of Life Unexpected fame, this series reminds me of a kinder, gentler version of
The Craft
. The casting resembles
The Vampire Diaries
, which isn't surprising since the shows share producers and directors.