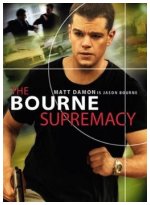 The Bourne Supremacy
2004










Flushed from his momentary refuge by an assassin, amnesiac -- and ex-CIA killer -- Jason Bourne (Matt Damon) finds himself thrust into secret alliances, setups and shootouts in this riveting sequel, the second leg of scribe Robert Ludlum's espionage trilogy. Still haunted by a murky past, Bourne attempts to piece together the shards of his life while protecting his girlfriend (Franka Potente) and thwarting an international incident.

Action, Book, Drama, Spy, Thriller

16










Disappointing to me as such a fan of the first movie. Awful shaky-cam action scenes. And the "new movie requires new girl, kill off old one" trope is silly.
27










Entertaining, but lacking the depth of
The Bourne Identity
- just a straight up action movie. I've always disliked the opening scene, but it's a necessary recap. Several chase scenes the camera is unbearably shaky, and the Russian finale seems frivolous.

11










Supreme movie production, thrilling plot, wonderful action, and good acting ... what more could you ask for !?