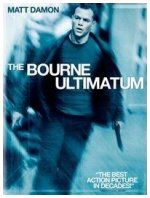 The Bourne Ultimatum
2007










Matt Damon returns as trained assassin Jason Bourne in this third film based on Robert Ludlum's best-selling novels. This time around, Bourne travels the globe on a quest to reconstruct his past -- and thus clear the way for his future. As Bourne moves from Moscow to Paris and on to Madrid, London, New York and Morocco, he's joined by returning cast members Julia Stiles and Joan Allen as well as new co-stars David Strathairn and Paddy Considine.

Action, Book, Drama, Spy, Thriller
27










Similar to
The Bourne Supremacy
this is an action movie, but Julia Stiles provides a little balance missing from the other film. The story was more outrageous than the second film, but the action was equally better. The camera shaking isn't quite as bad here

11










Awesome non stop action thriller. Probably the best in the Bourne series. Great acting from Matt Damon as usual.