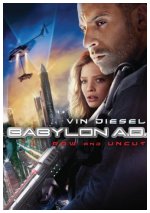 Hard-boiled mercenary Toorop (Vin Diesel) accepts a risky mission to escort a virus-carrying woman (Mélanie Thierry) and her guardian nun (Michelle Yeoh) from Russia to China. But Toorop gets far more than he bargained for when a mysterious religious cult stops at nothing to kidnap his charge. Gérard Depardieu and Charlotte Rampling co-star in this postapocalyptic tale of genetic mayhem based on Maurice Dantec's novel Babylon Babies.
Action, Fantasy, Sci-Fi, Thriller
27










The plot is comical at best, but Vin Diesel is amusing as always. This had action, but not as much as usual for his movies. Overall, a time-passer but
Pitch Black
and
The Chronicles of Riddick
are far better films.