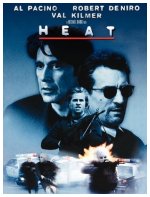 As two driven professionals -- an illustrious detective (Al Pacino) and a sophisticated thief (Robert De Niro) -- face off, they learn how much they need each other, and that the line between cop and criminal isn't always well-defined. Brilliantly directed by Michael Mann, Heat is a hyperkinetic crime drama about two men on opposite sides of the law who approach life in much the same way. Val Kilmer, Tom Sizemore and Jon Voight co-star.
Action, Heist, Thriller

10










I still have not seen a movie as near as good as this one. Great dialog, powerful acting, perfect score and plot. Breath taking movie.

11










Good movie here for sure, lots of action and good acting. It's entertaining and well worth the time.