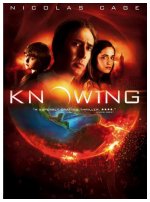 Fifty years after a time capsule was buried at a local school, teacher John Koestler (Nicolas Cage) examines its contents and discovers that it holds many shockingly true predictions. Soon, John is convinced that his family will play a role in an impending apocalypse. Rose Byrne co-stars as Diane Wayland, the daughter of the woman who first buried the capsule, in this tense blockbuster thriller from ace sci-fi auteur Alex Proyas.
Mystery, Sci-Fi, Thriller

10










The plot of the story was Cool, the acting wasn't the best. well worth watching.

11










I loved this movie, probably my favorite of doomsday movies. Wonderful acting by Nicolas Cage, with a twist to the plot, and a perfect ending. This might be my favorite movie ever !