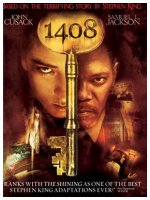 In this thriller based on a Stephen King story, writer and paranormal debunker Mike Enslin (John Cusack) is determined to demystify the ghostly events of room 1408 at the Dolphin Hotel, even though the clerk (Samuel L. Jackson) begs him to rethink his plans. Mike needs to write another book, and room 1408 may be his big ticket. But will he survive even one night? This unrated version includes extra footage and an alternate ending; it does not include the theatrical version ending.
Book, Drama, Horror, Supernatural

10










Oh hey, Cusak was still a big name in 2007. The horror felt like repackaged, predictable bs. A lot of effort was made to create a foreboding mood, but it wound up making the movie extra long, and the reveals just weren't scary enough.

3










Meh. Cusack was really good but the effects looked bad and the family storylines were cheesy.

11










This may or may not be a little bit spooky if you watch it at night alone ! The acting was wonderful, i enjoyed it.
27










The beginning was excellent, about half way through it started getting
really
long, ala Tom Hanks in
Cast Away
. It really needed something to break up an hour long sequence of John Cusack being randomly tortured by 1408. Conclusion was good.