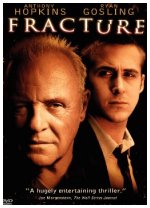 Anthony Hopkins stars in this legal thriller as Ted Crawford, a man who allegedly attempted to murder his wife and is now locked in a battle of wits with a young assistant district attorney, Willy Beachum (Ryan Gosling). The D.A. is convinced Crawford has blood on his hands, but Crawford is freed on a technicality, sending Beachum on an obsessive mission to prove Crawford's guilt -- even if he has to bend the law to do it.
Drama, Thriller

11










The plot was good, the acting was great. Some action mixed with some suspense and drama.

10










I really wanted Anthony hopkins to get away with the murder. (Cheating wife and all), other than that, the acting was excellent.
27










Excellent cast, great acting, and a pretty good plot as well.