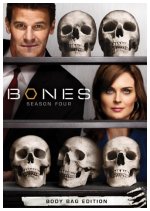 Inspired by the work of a real-life forensic anthropologist and novelist, this darkly comic series follows Dr. Temperence Brennan (Emily Deschanel), an employee of a Smithsonian-like institution who has a knack for finding clues in the bones of murder victims. Called in to assist law enforcement in their investigations, she's often teamed with a government agent (David Boreanaz) who mistrusts the connection between science and solving crime.
Drama, Mystery, TV
27










Not bad, but it didn't really hold my interest or entertain me as much as
Warehouse 13
- which has a similar flavor but is more intriguing.

9










It seems there's an endless supply of CSI type shows. However, this series is creative with it's "based on real characters" stories. The comic and romantic story lines keep me wondering what direction the characters will go next.

10










Another mystery/cop show and dark comedy, but more interesting than most of them. Dr. Brenner is also a pretty unique and endearing character, being extremely literal and emotionally closed off, but also brilliant with a good sense of humor.