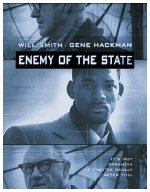 Hotshot Washington lawyer Robert Dean (Will Smith) becomes a victim of high-tech identity theft when a hacker slips an incriminating video into his pocket. Soon, a rogue National Security agent (Jon Voight) sets out to recover the tape -- and destroy Dean. Tony Scott directs this breakneck political thriller that co-stars Gene Hackman as an intelligence expert who comes to Dean's aid.
Action, Thriller

15










Love this movie--am a huge fan of well-made espionage flicks. Hackman (one of my all-time favorite actors) delivers perfectly as always, and Smith delivers a solid,very likable, believable performance. Well done throughout.

10










Will Smith and Gene Hackman have a believable chemistry that really makes this movie work. Because the idea was someone new for its generation, at times it feels like they're just packing too much technology in to make the storyline work.
27










Gene Hackman is great, and Will Smith does a passable job. A fairly enjoyable action thriller a bit similar to
Spy Game
, not as action packed as
The Bourne Identity
series.