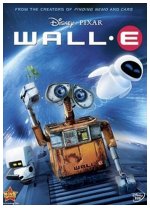 In a futuristic world, human beings have destroyed Earth and evacuated the planet, leaving the cleanup to an army of robots they've programmed to do their dirty work. Due to a mishap, the dutiful WALL-E is the only one left. But with the arrival of a female probe, the monotony of WALL-E's existence is broken -- and he experiences love for the first time. Andrew Stanton directs this Golden Globe- and Oscar-winning Pixar tale with a sci-fi twist.

Animation, Children, Comedy, Fantasy, Sci-Fi

3










Awesome movie for everyone to watch. Animation was flawless.
No comments found, be the first!

16










My favorite Pixar movie. Great visual design, especially in the silent first 30 minutes. Full of fun nerdy references too; made my little coder heart jump.

9










Like just about all of Pixar's movies, nearly a masterpiece for its time. Good fun for all the entire family. Pixar shows you don't need dialogue to keep a kid's attention.

8










Never thought a cockroach could be cute. The lack of dialogue at the beginning is well-executed - so much so that it's practically unnoticeable.
27










Animated, but not necessarily a kids movie. Extremely well done, and pretty cute.